Published On November 22, 2022
Cove Realty Giving Thanks…
Thanksgiving is just around the corner, and it's an important time to take a pause and remember all that we have to appreciate.
At Cove Realty, LLC, we want to take a moment to thank our amazing clients for choosing our team. We are truly grateful for your trust in us and the opportunity to help you find your dream home or sell your existing home.
Your loyalty and commitment have enabled us to continue working hard on improving our services and providing the best customer experience possible. It is these values that make our relationship so strong, and it's thanks to you that we're able to succeed. We take pride in the relationships we've built with each and every one of you.
From spending more quality time with loved ones to deepening our appreciation of life's simple pleasures, here are some of the reasons why the Cove team is spending this Thanksgiving season full of gratitude:
"Where to start? Counting my blessings may take forever: my physical and emotional health, my family, especially my daughter Meghan, and my fantastic friends and family-like pals. I'm thankful for the clients and coworkers I've met and worked with over the past 20 years. Together, we make up the best independently owned Real Estate office in Kenosha. Thank you to Dooley & Associates, lenders, title firms, appraisers, inspectors, other Realtors, accountants, and lawyers – all make my life better. I'm thankful for how I've evolved personally and professionally over the past 53 years. Life is good, and we have much to be thankful for!" – Mike Zacker
"I have a lot to be thankful for in 2022. It isn't what you have in your pocket that should make you thankful, but what you have in your heart. My heart is full of family, friends, my Cove family, and especially my clients. Thank you all for giving my life meaning each and every day." – Char Nikolai
"I am so thankful for all of my family and friends who make life so joyful! I am also thankful for our wonderful communities throughout Kenosha County. We live, work, and raise our families in a truly diverse and beautiful landscape. I'm so very grateful to be a part of it!" – Mel Ishee
"Feeling very blessed and grateful to be a part of Kenosha's #1 Independent Brokerage and to have helped serve 29 families (and counting) buy/sell a home in 2022. I am most thankful for my family, friends, Cove family, and clients. Sending warm wishes and blessings to your family this holiday season." – Rachel Lang
"I am thankful for my family and having a job that gives me the opportunity to help others every day!" – Andy Callahan
"I'm thankful for the privilege of helping and serving our clients and being part of the Cove Team (the best real estate office in Kenosha)! I'm also very thankful for my children, family, and friends." – Melissa Treichel
"Like many people, I'm thankful for the obvious reasons, my family, friends, clients, good health, and a great career. But I think we should also be thankful for all of the bad times we've had in life because that just helps us appreciate the great ones so much more. And pumpkin pie, I'm thankful for pumpkin pie!" – Kim Boyle
"What I am most thankful for is my incredible family!
My beautiful sister, Brittney
My wonderful brother-in-law, Adam
Their two adorable kids, Addley and August
My best friend of a brother, Sam
My loving father, Paul
My gorgeous mother, Catherine"
– Jack Reget
"I am thankful for the community and for all the clients who trusted me to help them find a new home." – Kevin Poirier
"I am sincerely grateful for all the blessings in my life. It is my dear family and friends that I'm entirely thankful for today and every day. Yet, no Thanksgiving would be complete without thanking the community and people who make my real estate job so special. To all my clients, past and present, I am truly thankful! Happy Thanksgiving!" – Mirinda Danielson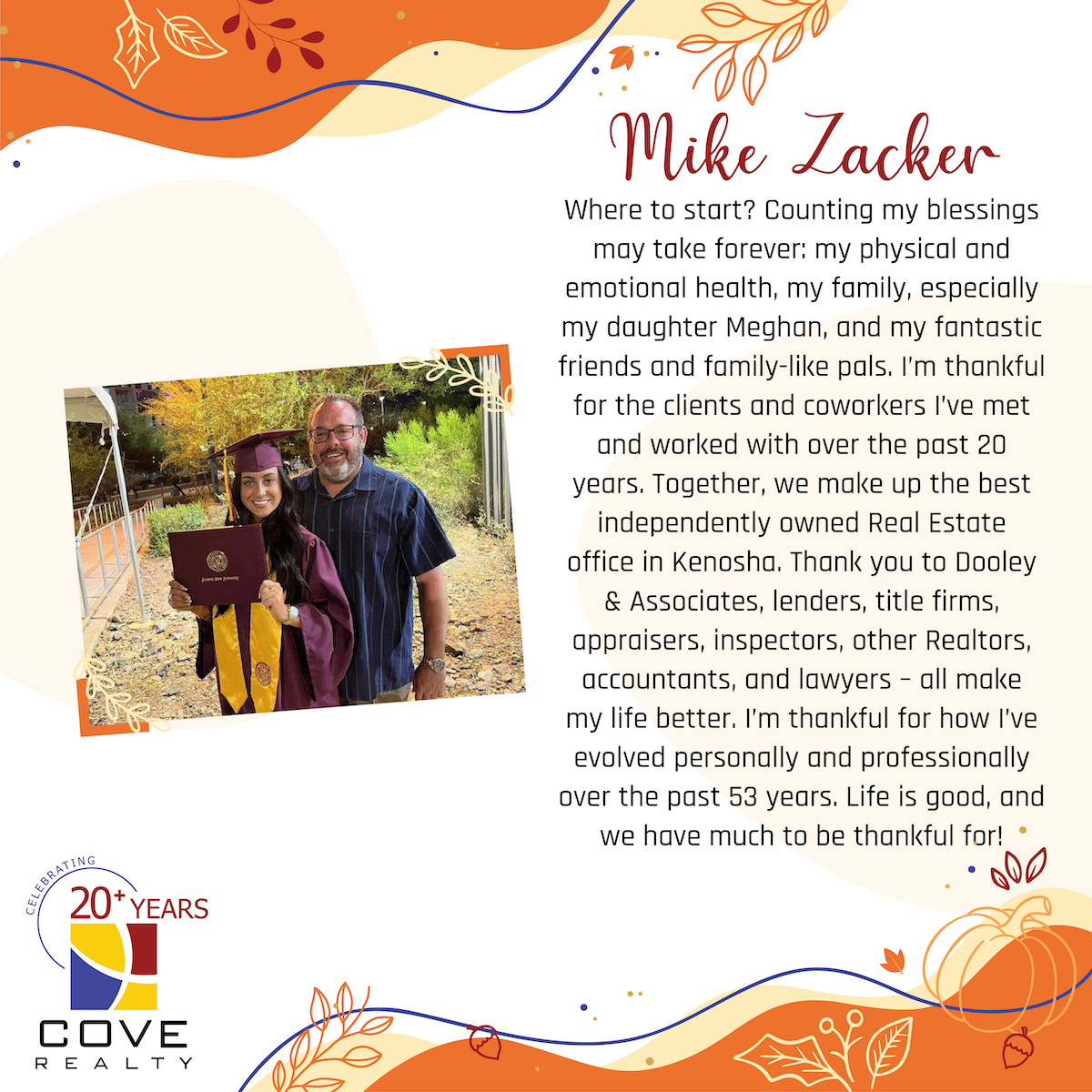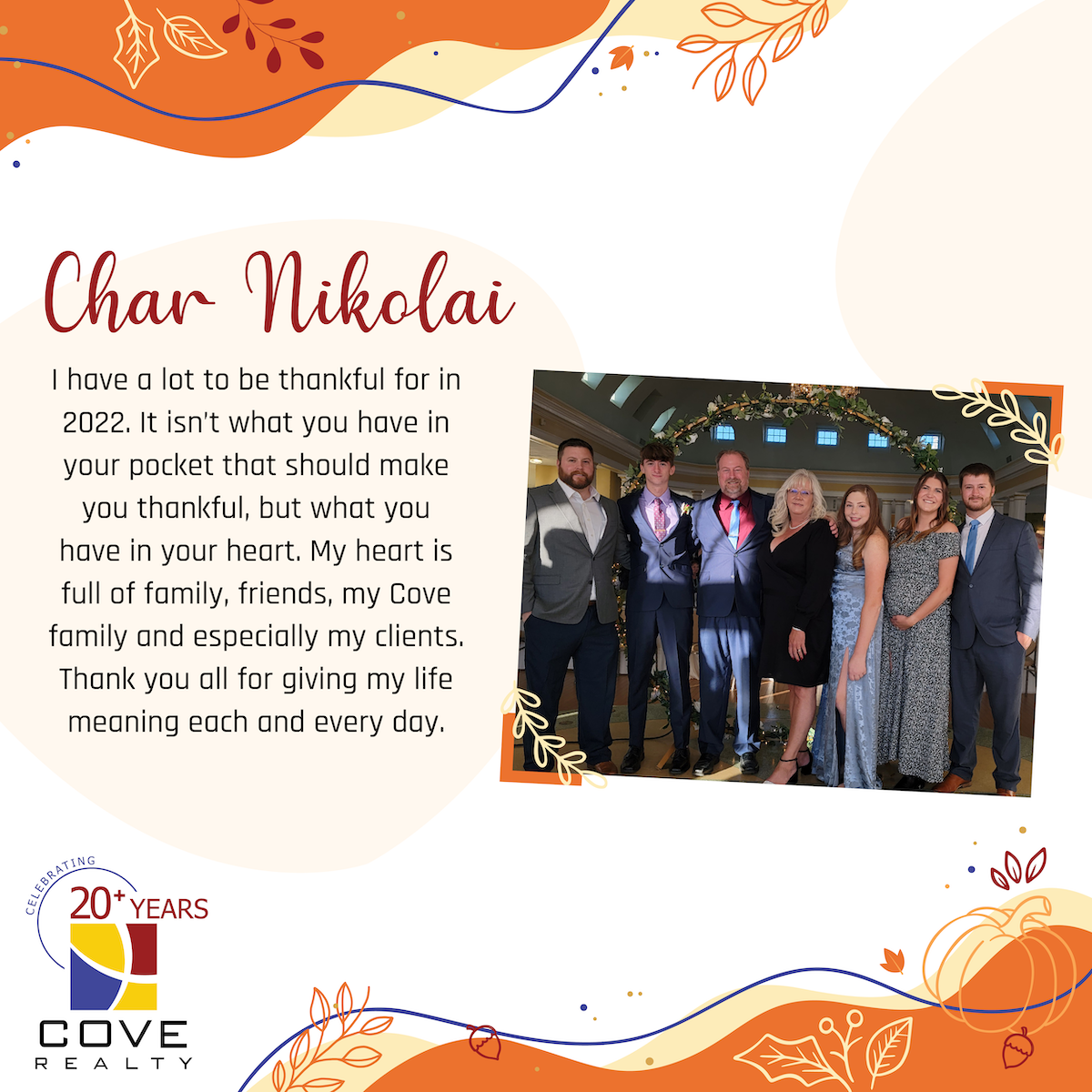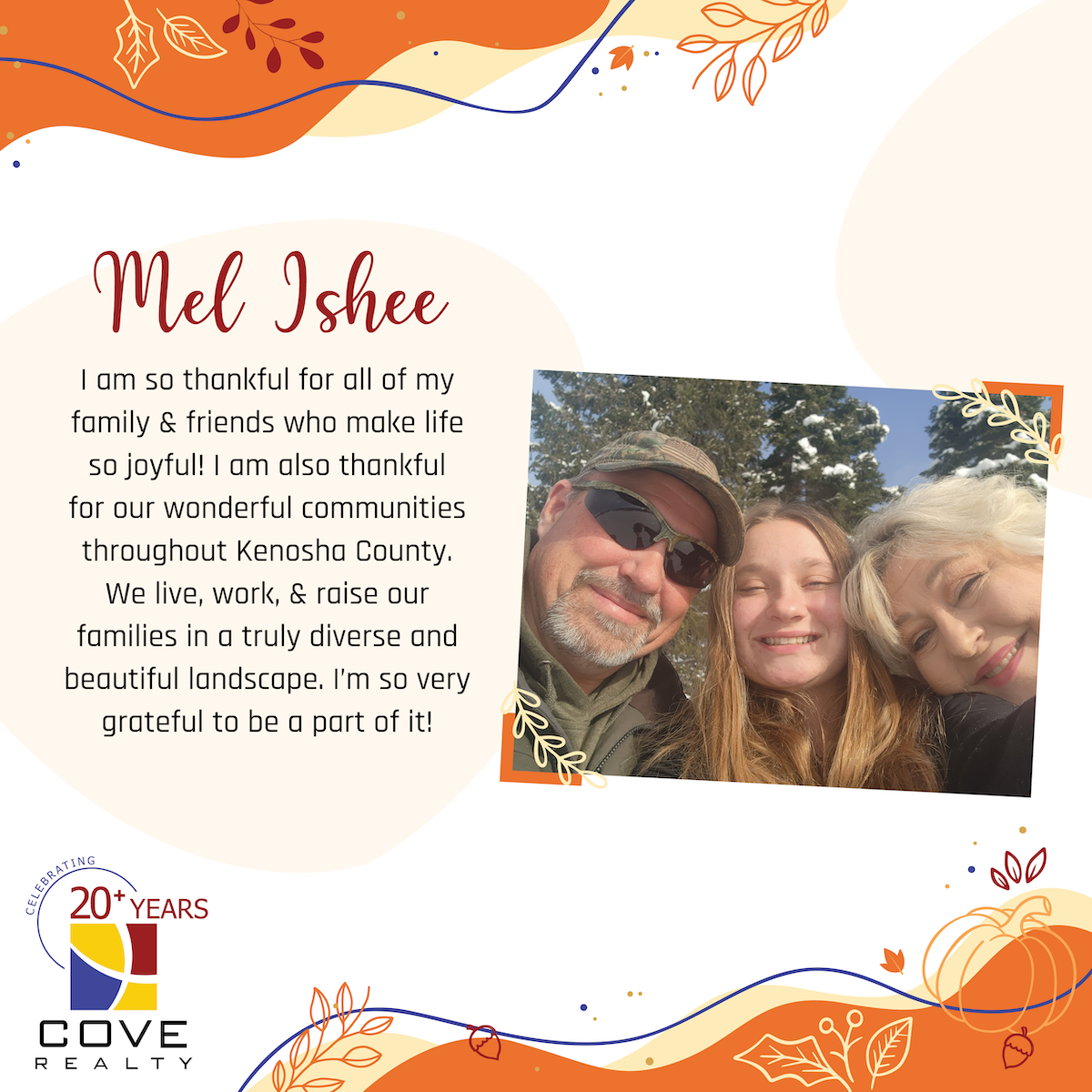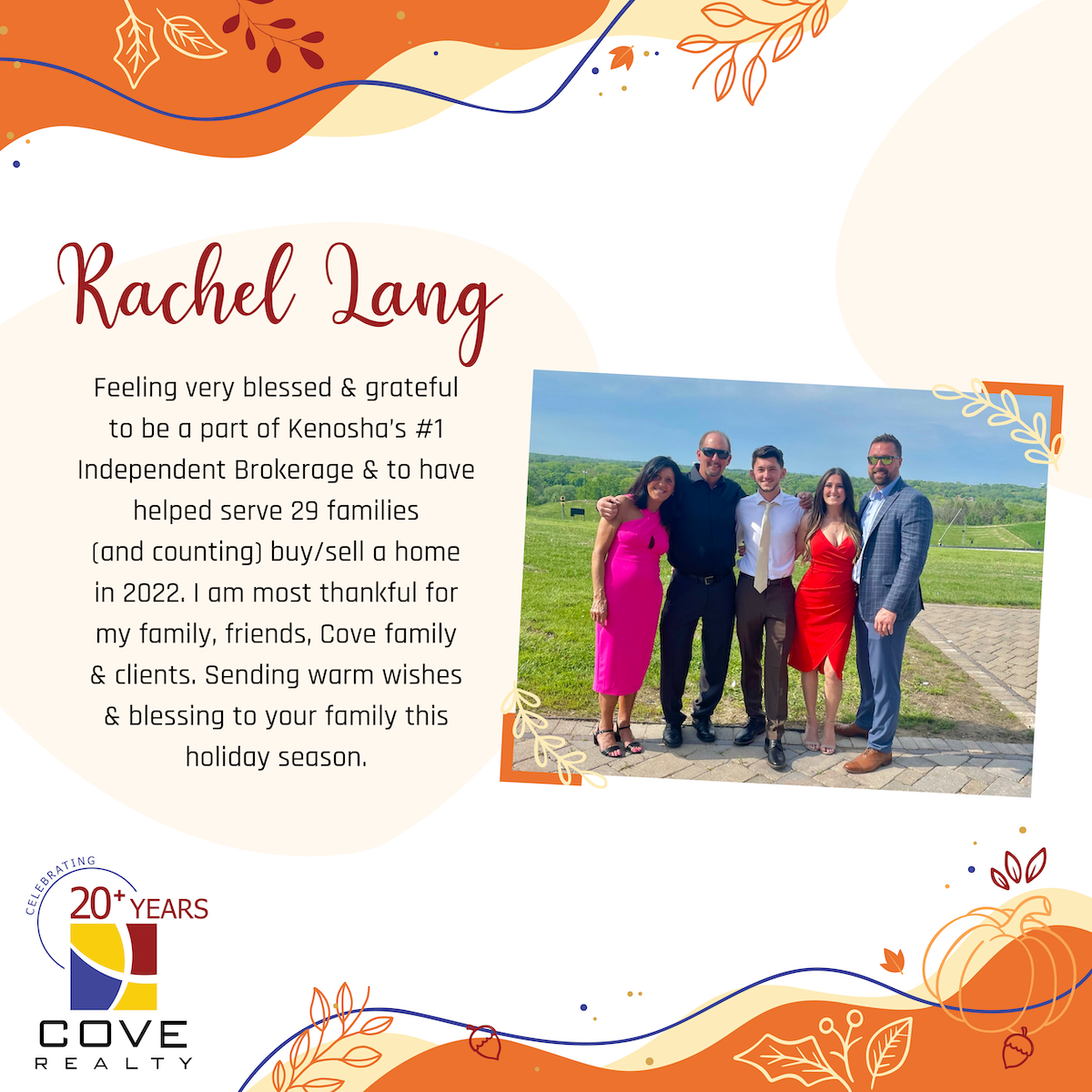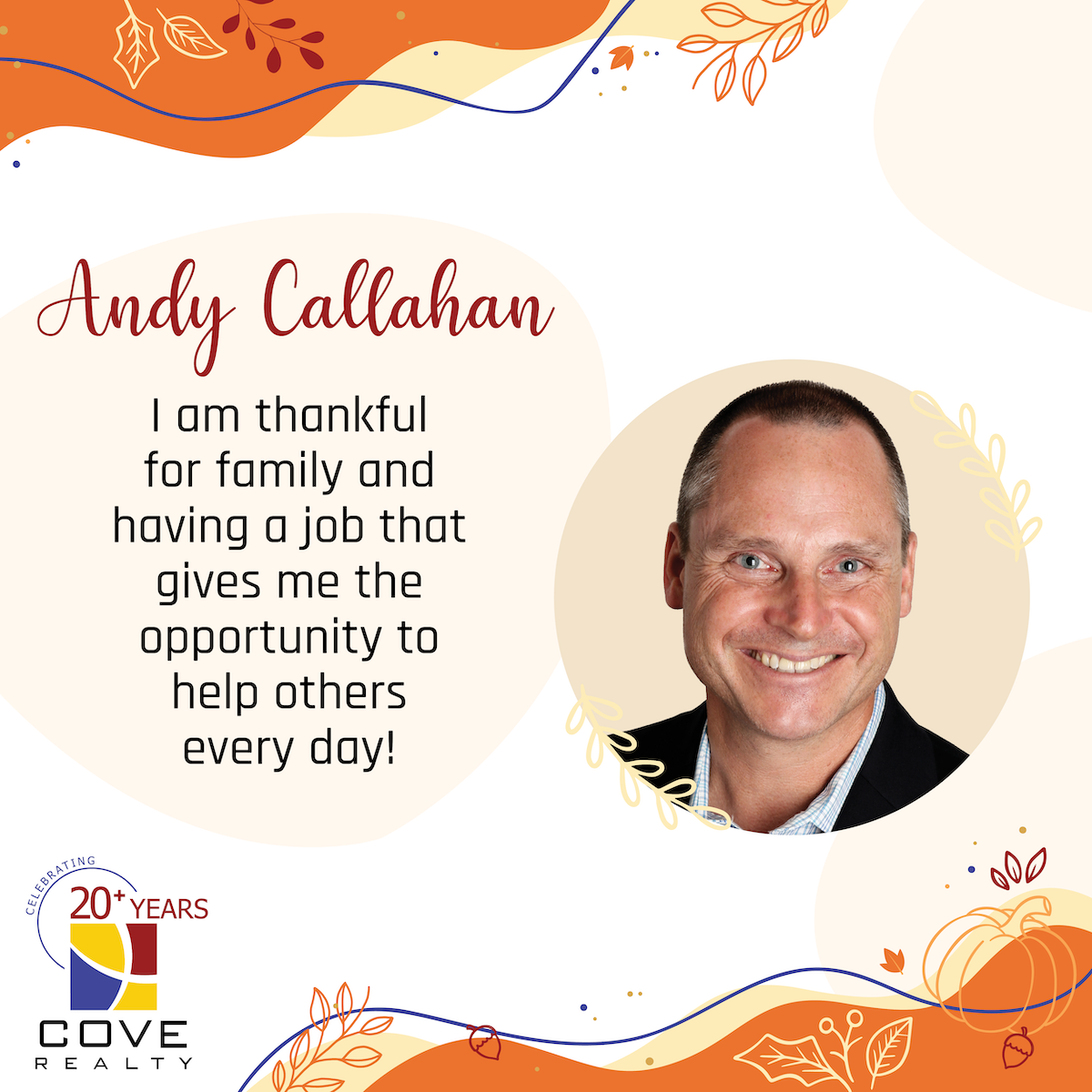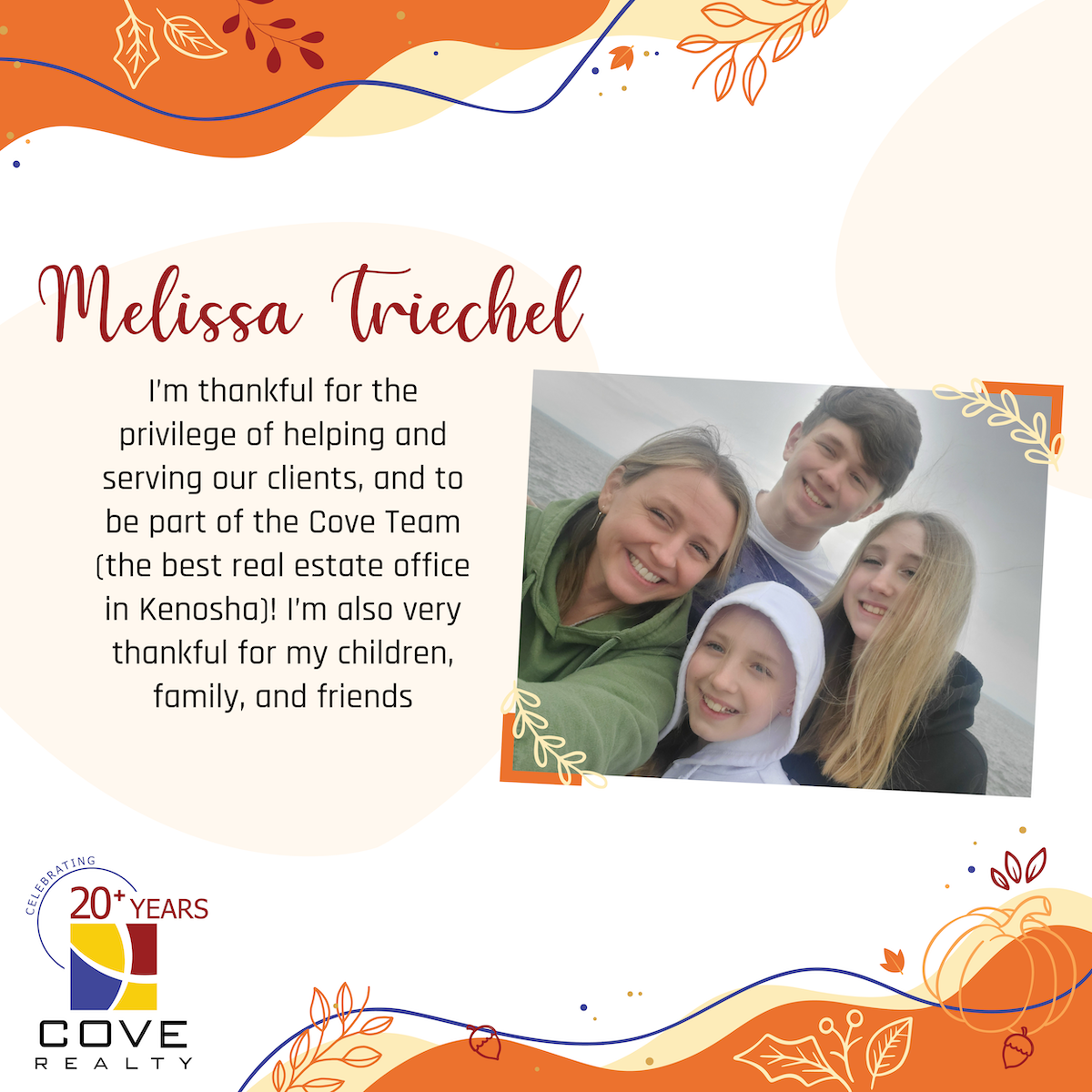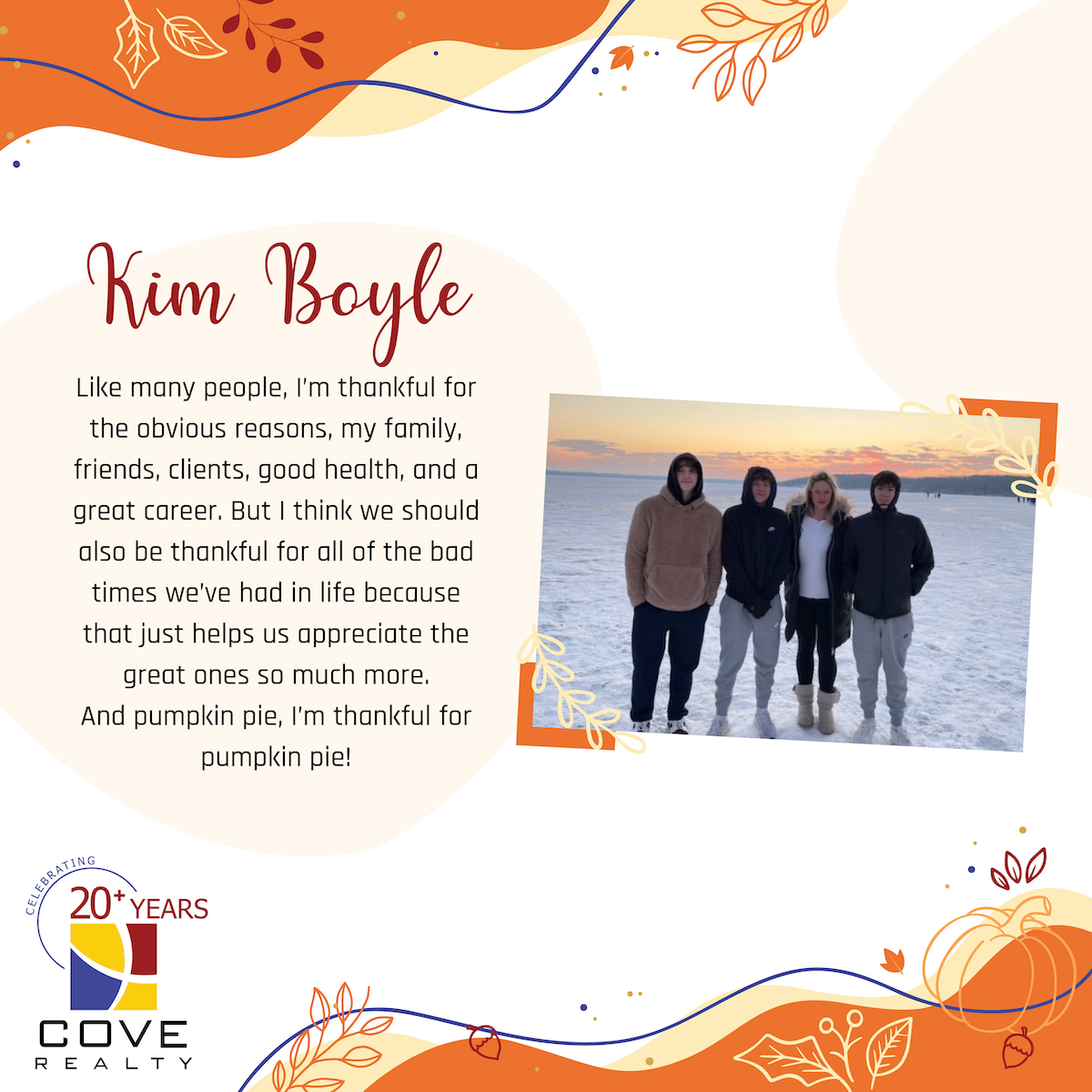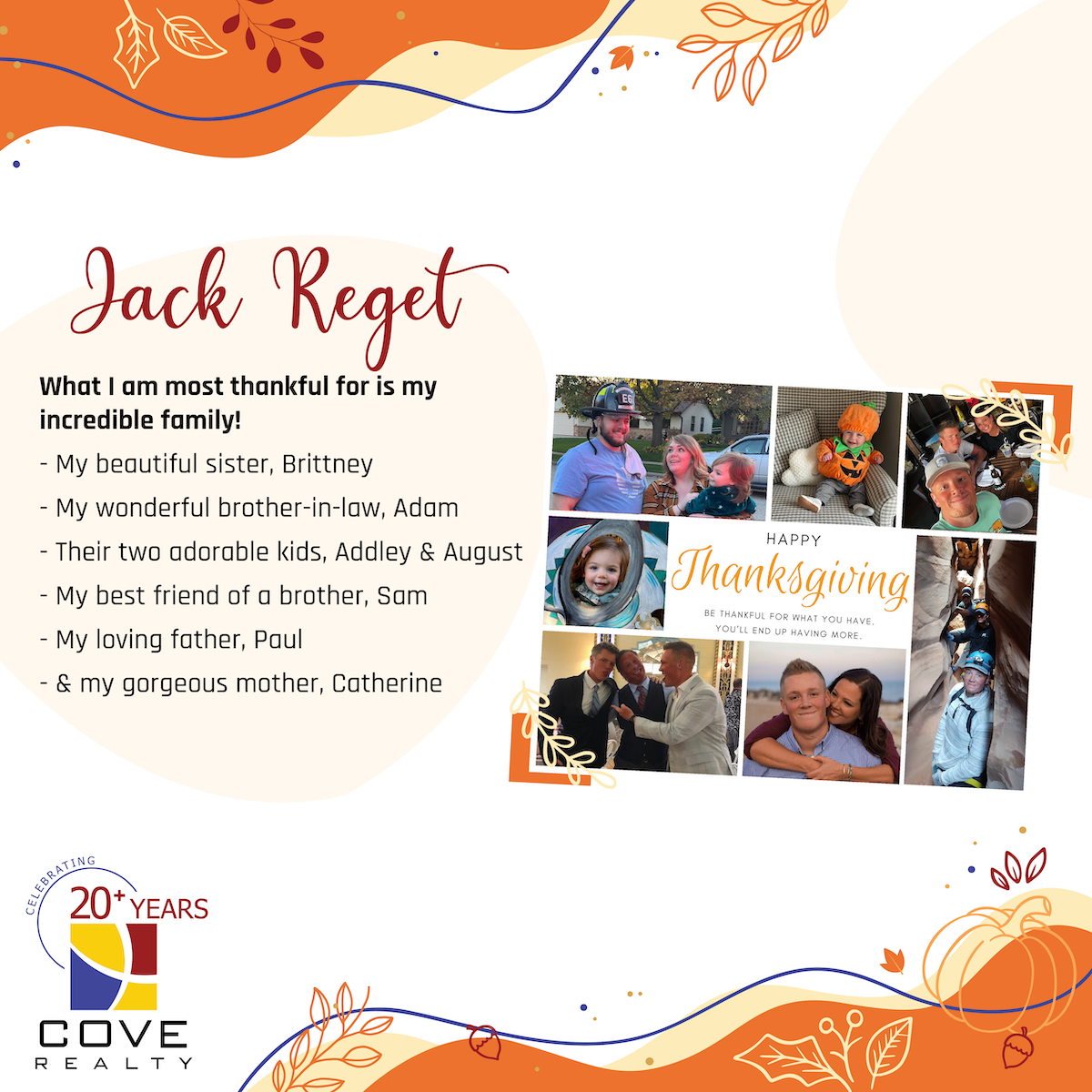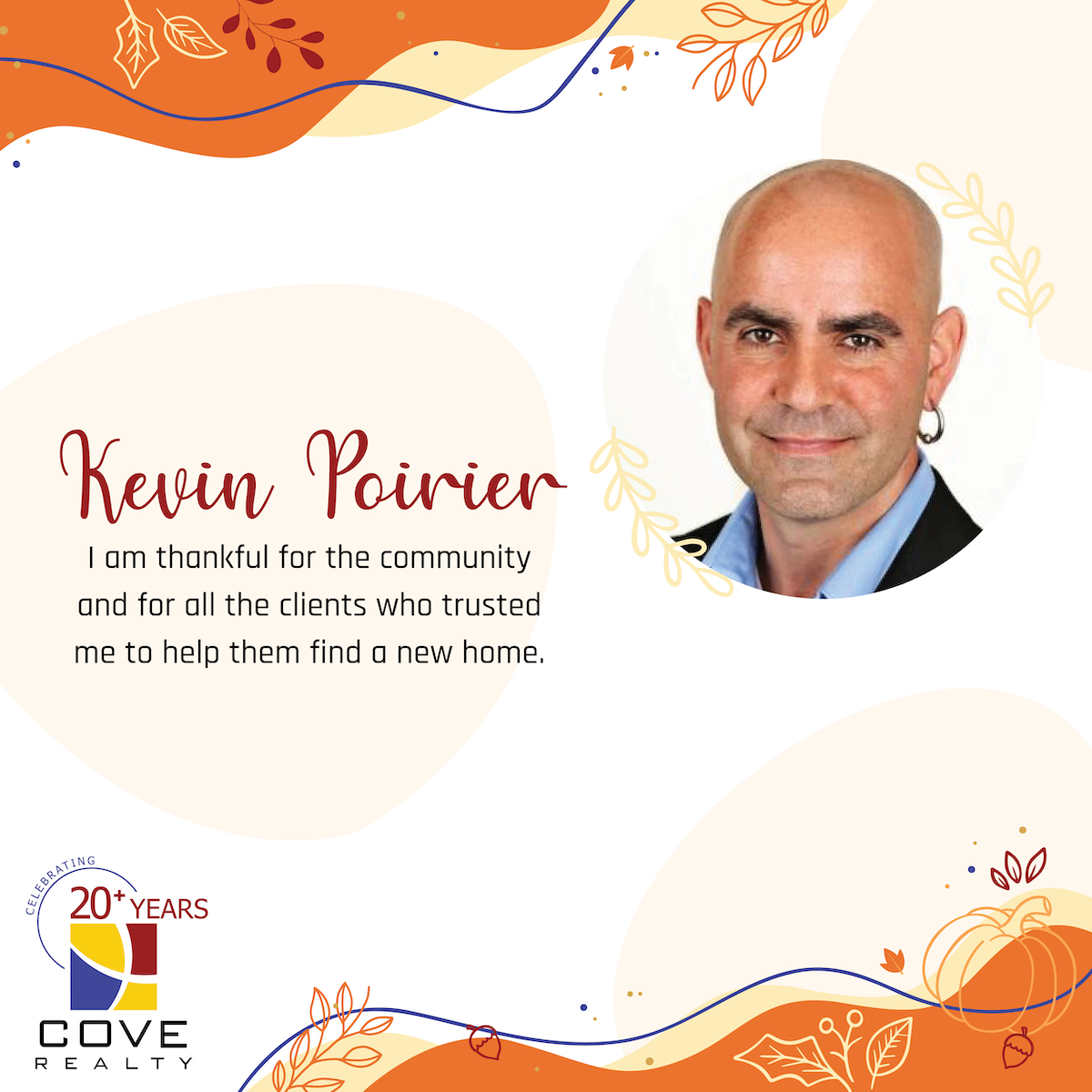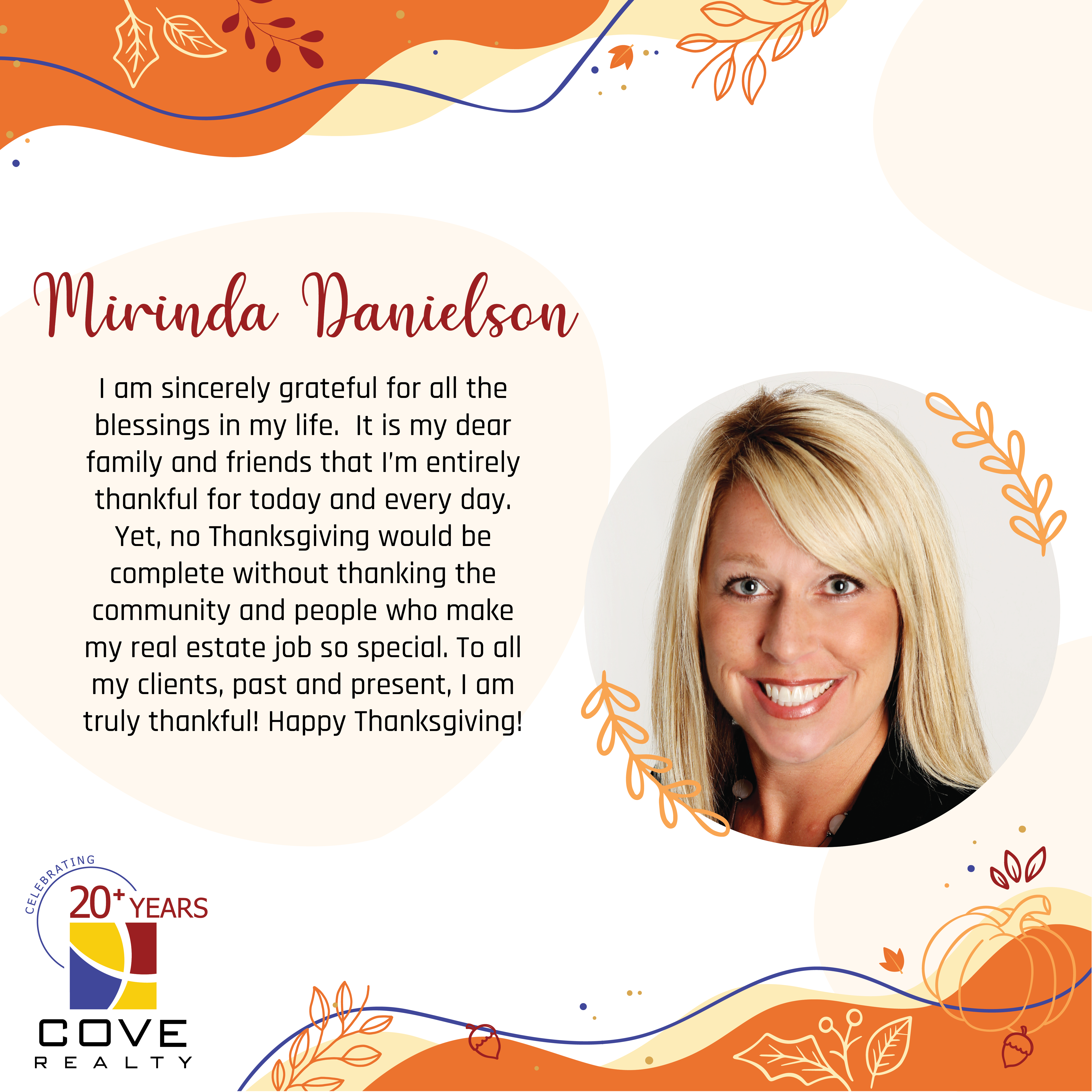 Happy Thanksgiving from everyone at Cove Realty, LLC!
WHY PAY 6%?
Contact Kenosha's #1 Independent Brokerage for commission AS LOW AS 3.5%.
"*" indicates required fields
Share This Story, Choose Your Platform!