Published On June 26, 2020
Be Prepared With the Right Realtor
Being prepared, prior to even looking for your dream home, will make the home-buying process easier and less stressful, especially in the current seller's market throughout Kenosha County.
A combination of strong demand and tight inventory is leading to one of the most difficult and competitive environments for buyers.  Due to a shortage of inventory (currently only 204 single family homes listed in the City of Kenosha) competition can be fierce; therefore, it's important a buyer understands they may have to pay full price for a home and potentially over the asking price. In fact, it's very common that a home will have multiple and over asking price offers within the first 12-24 hours of going on the market.
How To Be Prepared To Buy A Home In A Sellers Market
Get financing in order

–

When a buyer submits a purchase offer, it's imperative to provide a mortgage pre-approval or at the very least a pre-qualification letter from the buyer's lender.

 Otherwise, if you're a cash buyer you will  enjoy an advantage over other buyers who need a mortgage because the seller is interested in choosing a buyer who can close the transaction quickly without an uncertain underwriting process.
Be available

–

 To look at a home just hours after it is marketed is necessary and essential in a competitive market.  Both agent and buyer need to be willing to view homes in a timely fashion.  
Select a real estate agent –

Choose an agent willing to work rapidly as your buyer's agent.  In a seller's market, things move quickly. Your agent should be on the frontlines and be connected in the local market; meanwhile keeping you informed of market changes at all times.
Make a "clean strong offer" –

Write an attractive offer that reduces the hassle for the seller by agreeing to terms that make their transition easier.  Too many contingencies will prevent an offer from being the most desirable.  Consider increasing your earnest money deposit to show proof that you are a good-faith buyer.  
Working with the right Realtor can also make your home buying process easier and less stressful, as Sonya Cartwright recently found.
Sonya, a Kenosha local, was financially prepared when she came to me, ready to buy her dream home. She was ready to be aggressive in today's seller's market and knew exactly where she wanted to find a home and focused her search for homes and condos in those select areas.  We looked at houses, immediately when they hit the market, with the intent to pull the trigger when we found the perfect home.
"The thought of buying a home on my own was a bit overwhelming, so I decided to go with someone who knows me well and someone I trusted.  I knew without a doubt that Mindi Danielson would be the perfect realtor for me.  
I messaged her about what type of home I would be interested in and she signed me up to receive emails with current homes in the approximate price range and area.  I needed someone who knew the importance of being in a safe neighborhood where I felt comfortable and at home.  We saw a home or two and then COVID-19 hit.  I was worried that I wouldn't find anything and knew I needed to vacate where I was living in a few months.  Mindi reassured me that we would find something and helped me with a path to follow.  
We discussed going to get a mortgage prequalification letter so that when we found something I liked, we could put in an offer right away as the homes in my price range and area were going quick.  We looked at a few more homes and I was getting discouraged and started second guessing what I really wanted.  Mindi calmed me and said we would find something and not to worry and that when I saw the home I would know.  We went to see two homes on the day that I found the home I am now living in and I knew, when I walked in, that I loved it and it would be perfect for me.  We put in an offer that afternoon and our offer was accepted that night.  
Mindi then guided me through the inspection process and counter offers.  She was always looking out for me and doing what was best in my interests.  She made the process calming and seamless.  I even made the comment that I would rather buy a home instead of buying a car.  
Mindi worked with my mortgage lender to get everything perfect for closing day.  She explained what normally happens and said that things would probably be different during COVID and made everything run smoothly.  I showed up on closing day and we were all parked out front of the lender waiting to sign paperwork.  She asked if I had any questions and understood everything.  Half an hour and I was done.
I would recommend anyone to use Mindi Danielson for a home in the Kenosha area."
Contact Mindi to start searching for your dream home today.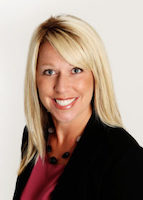 Mirinda's (Mindi's) understanding of excellent client service stems from her background in education and service. She embraces integrity, energy, hard work, and loyal service in every detail of each real estate transaction. Mirinda is passionate about the needs and goals of each if her clients and guides them through each step of the way bringing peace of mind.
As a life long resident of Kenosha, she attended local schools and pursued a bachelor's degree from Carthage College. Mirinda's many years in the construction industry has given her great experience in home construction. She now uses her 10 years of real estate experience and foresight to make each transaction a memorable one.
In addition to being a devoted mother and wife, her passion lies in helping others. She is a proud Kenosha Unified School teacher and dedicated real estate agent.
"I truly value each client and get great satisfaction out of being able to put my energy into helping each person/family make gratifying real estate investments."
WHY PAY 6%?
Contact Kenosha's #1 Independent Brokerage for commission AS LOW AS 3.5%.
"*" indicates required fields
Share This Story, Choose Your Platform!